Dirty Harry Pinball Machine by Williams
(Williams, 1995)
Dirty Harry Pinball Machine by Williams
Do you feel lucky? You should – this is the Dirty Harry pinball packing the famous .44 Magnum and a steely take charge attitude, complete with excellent pinball features!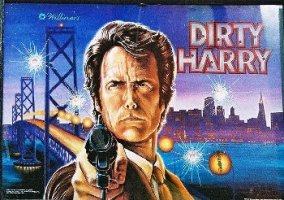 Features
There is the top-loading reproduction .44 Magnum – this industry-first playfield component takes aim at skill shots and features, and shoots rapid-fire pinballs into the action.
Plus, two moulded mimiatures – a safe house and a warehouse – award valuable bonuses.
In the Feel Lucky mode players can go after big points or take a shot at special awards.
They'll also break up bar room brawls, chase getaway cars, difuse letter bombs, meet the mob or stop madman Scorpio's reign of terror.
Anyone left standing after all that action can face an all-out Crime Wave with unlimited autofeed multi-ball action!
It's awesome pinball power – Do you feel lucky? You will with Dirty Harry pinball!

More Information
This pinball has been subject to a full 20 point reconditioning service by trained technicians
Please note some signs of wear may be apparent
Originally manufactured by Williams i
Part of our range of Williams Pinball Machines
Dirty Harry pinball machine is based on the fictional character of the same name. If you are a Clint Eastwood fan, this machine is a must have.
Game Features:
Moving .44 Magnum on playfield is used to shoot pinballs at targets, sinkhole, and ramp. Magnet in right loop.